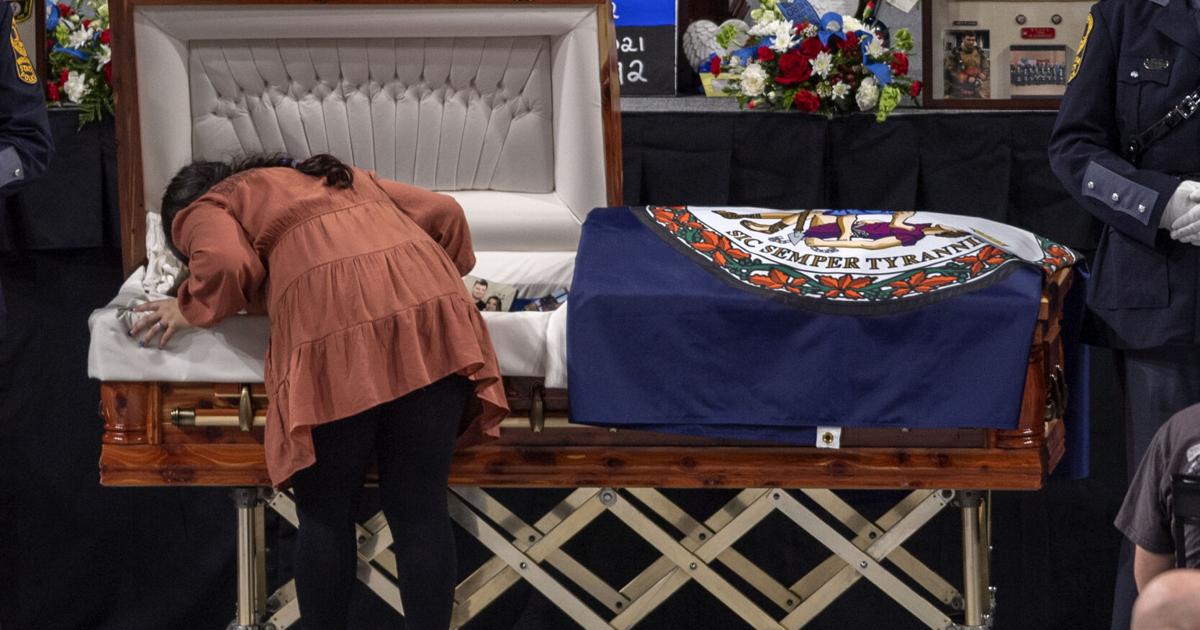 Officer Chandler Praises Hero and Role Model | Latest titles
WISE, Va. – Minutes before the funeral of Big Stone Gap Police Officer Michael Chandler on Wednesday night, widow Natasha Chandler stood alone beside his casket – except for two members of the guard. honor of the Virginia State Police.
She bent down, reached into the coffin to touch it, then knelt down to say goodbye.
They had been married for only three weeks.
In the nearly 90 minutes that followed, an array of speakers praised Michael Chandler as a "hero", "role model" and example of what a public servant should be.
Chandler, 29, was shot dead early Saturday during a welfare check at a home in the 2500 block of Orr Street, just outside the city limits. He was first taken to Norton Community Hospital and then airlifted to Johnson City Medical Center, where he later died.
An estimated crowd of 750 filled the David J. Prior Convocation Center at UVa-Wise for the service, including hundreds of state and local law enforcement agencies representing Tennessee, North Carolina, Kentucky, Ohio, and all corners of Virginia, as well as members of the United States Marshals Service. An estimated 1,250 people paid their respects for more than four hours before the service.
Big Stone Gap City Manager Steve Lawson said he worked with Chandler.
"He led by example no matter what he was doing. It was above and beyond. He was an example of everything we are proud of in Southwest Virginia. He served his community not only as a police officer and firefighter, but as a husband, father and friend that none of us will ever replace," Lawson said. "We have never had a complaint. He always did things the right way, always with a smile and always helping.
"Michael went out that night to care for someone, and he encountered evil in the dark," Lawson said. "As I watch all these first responders that we so appreciate for coming out and showing their respect, be careful. Please. It's a different world out there, and there's evil in it.
Chuck Slemp, the Wise County Commonwealth attorney, praised Chandler both as a police officer and as a person.
"All we can do is honor him and his memory. Carry on the legacy of his service. May we all put aside our differences, our self-interest, our pride, our personal safety and learn to setting an example for others," Slemp said. "Servant leadership, and we write our own story from our own lives in service to others."
State Deputy Terry Kilgore, R-Gate City, spoke of the hundreds of people lining the roads Monday when Chandler's body was brought back to southwest Virginia from the Roanoke medical examiner's office.
"Words are insufficient to describe the impact Michael has had on his journey here on earth; however, as I watched people line the streets and line the overpasses – from Roanoke to Big Stone – that impact resonated with me," he said. "I felt a sense of pride, and I know Michael does too. It's a testament to Michael. It's proof of a job well done."
Lieutenant Governor-elect Winsome Sears recounted the time two sheriff's deputies came to his door to inform him that his daughter and one granddaughter had died and another was on life support.
"You didn't get a chance to say goodbye," she told Natasha Chandler. "He wasn't supposed to not be there, and that hurts. I know it hurts. Right now you have this hole in your stomach. … It's going to be there for a long time.
Sears told Chandler she needed to mourn this tragedy.
"You have to mourn. God gave us tears for a reason," Sears said.
Attorney General-elect Jason Miyares presented a flag waving above the Virginia State Capitol building in Richmond and during his remarks spoke of the "burden of the badge."
"The burden of the badge – that when you put on the shield every day – you're the front line carrying that burden," Miyares said. "Often, too often, you're not appreciated enough by the people you protect. Every day you carry that shield, you often deal with people on their worst day. And you certainly don't get any thanks.
"Michael was that hero," Miyares said. "What other job, when you hear gunshots, when everyone rushes, you rush? Or a building on fire, when everyone rushes, you rush inside? »
In the hours leading up to the service, a steady stream of well-wishers – many in uniform with black wristbands covering their badges – began pouring through the doors well before the scheduled 3 p.m. opening and continued until shortly before 7 p.m. Around 17 o'clock. , a regular line of over 100 people marched for 15 minutes, paying their respects. About 1,200 people filed past Chandler's open casket during the reception.
State Sen. Travis Hackworth, R-Richlands, attended the service and released a statement praising Chandler's sacrifice.
"Officer Chandler embodies public service, bravery and the essence of sacrifice for the common good," Hackworth wrote. "To his family, we mourn with you and want you to know that the sacrifice of your husband, son and father is deeply respected and appreciated by all of us."
Thursday's graveside procession will depart from Bullitt Park to Big Stone Gap at 11 a.m. Those wishing to pay their respects to the family are asked to gather on the sidewalks of Big Stone Gap, or anywhere along the procession route to Powell Valley Memorial Gardens.
Cemetery services are limited to family and emergency personnel.
[email protected] | 276-645-2532 | Twitter: @DMcGeeBHC | Facebook.com/david.mcgee.127