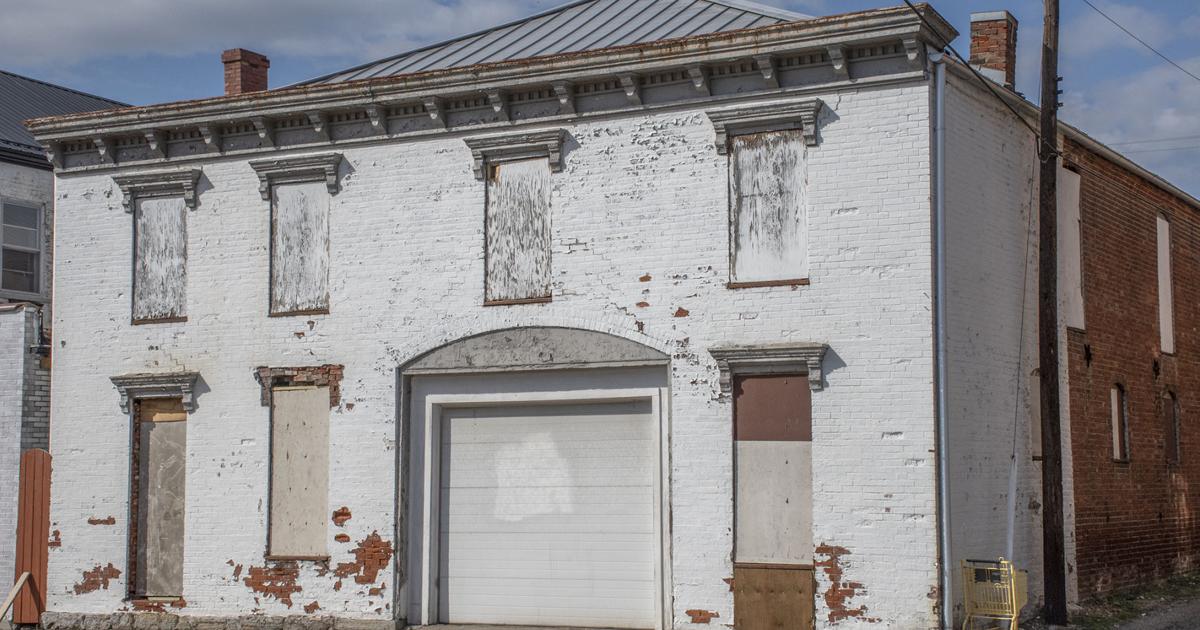 The Chandler | News | madisoncourier.com
What was once a boarding stable, bottling plant and newspaper warehouse is being transformed into what will become The Chandler: Madison's Boutique Hotel.
Matt and Dan Chandler were looking for a location to develop a small hotel in downtown Madison when former Madison Courier publisher Curt Jacobs suggested the newspaper's former warehouse at 111 E. Second St., used to store d huge rolls of newsprint, barrels of ink and other printing supplies over the past 50 years.
"I knew right away that this was the project for us," said Dan Chandler. "I knew we could do it. I knew it had historical charm. It's got the exposed brick, it's got those rafters, those high ceilings, and it's got the history and that charm. It was everything we wanted and it allowed us to be in the heart of Madison, and we knew it would be an attraction for others.
The Chandlers bought the building in January and hope to open the hotel in nine to 12 months with the first phase of the project creating five bedrooms on the second floor as well as an owner's suite. "We're moving full speed ahead," Matt said, adding that timing depends on how the project progresses.
There will be a grand staircase in the lobby leading to the second floor with all windows fully restored, Matt said. The garage door at the front of the building will be converted into the main entrance. The second phase will add three more bedrooms to the first floor.
"This building itself dates back to the 1850s before the Civil War," Dan said. An 1859 city directory listed the building as McCubbin and Sons Livery and for several years after that it was used as a livery and stable – the last by Louis Eisenhardt who died in 1935. Try Me Bottle Works was located in structure from 1939, and after that operation closed it was used for various other purposes until the Courier purchased it and began using it to store newsprint.
During the acquisition and renovation process, the Chandlers discovered a few artifacts such as handwritten receipts from the Louis Eisenhardt Livery and an aluminum sign used by bottle factories. Matt is planning exhibits featuring historical memorabilia in the lobby, as well as an art gallery to showcase local artists. He also wants to organize activities such as wine tastings.
"We really want to be a good tourism partner," he said.
Matt Chandler grew up on a strawberry farm in Cross Plains that his parents, Steve and Linda Chandler, still operate, but often spent time in Madison visiting his grandparents. After graduating from South Ripley High School, he went to IUPUI where he earned a bachelor's degree in Tourism Management. During this time, he interned at the Brick Street Inn, an eight-room hotel in Zionsville that left a strong impression.
"I've always said it was my favorite job, like the best job I've ever had," Matt said.
After college, he worked in food and beverage management at the Marriott in downtown Indianapolis, then decided to move back to southeast Indiana where he worked seven years at the Belterra Casino and Resort in Florence until he was promoted to Human Resources at Cincinnati's Belterra Park, where he currently works. works.
In the meantime, Matt gradually began venturing into the Airbnb business in Jefferson County, the first being a property he named Cabin on the Ridge, located in Shelby Township east of Canaan. . This cabin had actually been Matt's home for five years before he started renting it out, and it quickly became a hit with an annual occupancy rate of 98%. This led to Matt teaming up with Dan to build another cabin nearby which he calls Cabin on the Ridge: The Sequel.
"That's when I really started to learn that there was a real love for Madison because everyone who came there and stayed in those cabins came to this beautiful city," he said. . Matt also operates a third Airbnb with his mother – The Artist's A-Frame on Elmhurst Street on Madison Hill where his grandparents had lived. He said all three Airbnbs were booming, which led him to take another step with The Chandler.
"It's been about one project every year and every one we've gotten our hands on has turned out to be phenomenal," Dan said, noting that each project built on the others. "We take active steps to get to the point in our lives where we want to be."
And Madison is where they want to be.
"We love Madison and we knew that was our goal to eventually come to Madison and live here full time and be more integrated into the community," Matt said, noting that Madison is where he and Dan can "grow our business and our entrepreneurial spirit."
Dan, originally from Louisville, is a psychiatric mental health nurse practitioner at Glenwood Behavioral Health Hospital in Cincinnati. Earlier in his career, he had been a nurse in a trauma center and "loved what I did", particularly helping others, but "my passion grew out of that to be of service to those with mental health issues. Mental Health ". He is now transitioning to outpatient telehealth which will allow him to work from home via video conference calls once the hotel is open. He said it is a technology that will not only benefit him, but also allow patients to be assisted in rural areas who may not be able to travel the distance to a city hospital.
Although he grew up in nearby Louisville, Dan said he "was introduced to Madison when I first met Matt and fell in love with it from the start. I always dreamed of starting my own business and when I met Matt and saw his businesses work and then we were introduced to Madison, we always hoped to come back and do a project that we're both passionate about."
They said the hotel will follow an invisible service concept in which guests can experience the local way of life in a space that feels like home, while anticipating guest needs.
"People, when they book, are given an access code and have a community space. They will have the same key code which will be individualized for their rooms," Matt said, noting that everyone will have self check-in.
"It really puts the power of their stay in the hands of guests," Dan said. "You need to come in, be relaxed, be home as soon as you get there and know you're in control of your entire stay."
Matt described it as "a streamlined stay with access to a local concierge", with him residing on the property to provide all the assistance guests need, including information about what's happening in the community and where to go. where to go.
So far, Matt said Madison has been very welcoming to them and their business. "We have been lucky to work with the people we have, they have been very supportive of us. The city rolled out the red carpet for us. It was really great.
Matt said they wanted to be part of promoting all of Madison. "We are going to promote the city, the shops and the restaurants, the city and the festivals, and where to go, and what to eat, what concert to see, or event to visit. We really try to empower the guest to be a local.
Matt and Dan can't wait to be part of the Madison scene. They can't hold back their excitement about living and being in Madison. For now, they live in their home in Florence, Indiana, and both commute to work in Cincinnati daily. But once The Chandler opens, they plan to convert their home in Florence into another Airbnb, and move into the owner's suite at The Chandler and become part of the Madison community.
"We really want the vision," Matt said. "We really want to cultivate community partnerships and partner with local merchants" and make "it's a very local experience." And a very inclusive experience. It is important to us that everyone is welcome here. This is a very important message that we want to share with the community. We want to be integrated into this community.
Matt said he couldn't hold back his joy and looked forward to when he and Dan operate their hotel in Madison. "It can't happen soon enough."