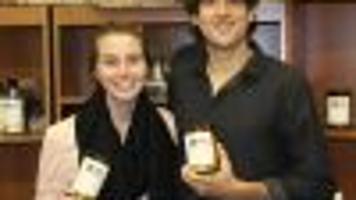 Vineyard Tales opens store in Saint Helena | Business
Felipe McAlister and Briston Sullivan opened the Vineyard Tales candle store at 661 Main Street in St. Helena, which McAlister says "strives to bring light into every home."
Each candle, McAlister said, is made from recycled wine bottles and premium 100% soy wax with "eco-friendly" wicks. But the story of Vineyard Tales began far from Napa Valley on a trip through Southeast Asia, where the duo spent five months walking.
During their travels, they realized how the world works without the benefits of electricity. So, upon their return to the United States, the memory of these travel experiences sparked a desire to make a difference in the places they had visited.
The young couple traveled across the United States in an old MG until they arrived on the West Coast. While exploring the Bay Area, they fell in love with Napa Valley and decided it was the place to make their mark. A grocery store – or a candle store – seemed like something they could do.
"Our previous experience of making wine in a vineyard inspired us to do something special with empty Napa Valley bottles," said McAlister. They analyzed the aromas of different wines and the wine-making processes, then developed scents that could rekindle those aromas in a candle.
"We believe that the process of making wine takes dedication and is interesting, which is why we have chosen to personify the stages of wine making, while creating the perfect ambiance in the home," said McAlister.